ACTION STEP TO TAKE
In all you do, work with people and not for them.

Marketplace Unpredictability
Focus on What You Are Doing Right
"Culture eats strategy for breakfast."
Peter Drucker This is one of my favorite business quotes. Market conditions continually change. We do extensive research and engage with existing and potential customers. We look at what is going well for clients in their key departments by talking to leaders and listening to their advice on how to replicate it. What we are seeing now is that one way to build immunity to the unpredictability of the market is to look at your organization's culture.
One key is to ask, "What are we doing right?" You will be surprised to understand what is going well. Next, be bold and go deeper into the "Why does it work for you?" I am shocked to learn that small micro actions make a difference. Giving someone a call to say "Thank you" or listen to their issues with their Mom's health challenges might be the reason someone sees your culture as a welcoming and supportive place to work. It is small and significant. It's the tiny things that build a culture of caring. It encourages people to invite their friends to work with you and do business with you. .
Are you able to attract, develop, and retain talent? Clients come to us after they have tried everything they know to try and it is still not working. Revenues are off. Talent is leaving. Positions are staying open longer and longer. Try asking, "What are we doing right?" and you will hear clues to change your situation and bolster the storm of marketplace uncertainty. It is always about the culture, and the people make the culture dance.
Being able to attract, develop, and retain talent.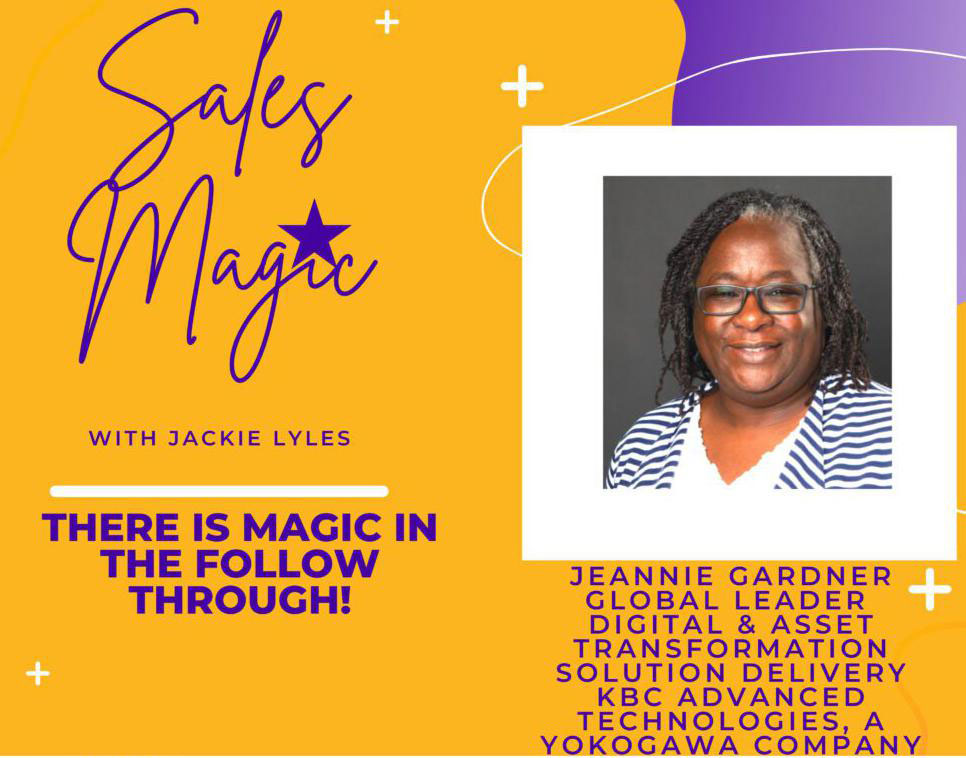 In this episode, Jackie talks with Jeannie Gardner, Global Leader Digital & Asset Transformation Solution Delivery at KBC Advanced Technologies, a Yokogawa Company. Jeannie is focused on delivering a comprehensive Digital & Asset Transformation strategy for KBC's customers worldwide. Prior to joining KBC she spent 16 years at Shell as a business operations leader. She is a large-scale business transformation expert and has been instrumental in delivering digital transformation, process optimization & standardization projects and business strategies that have resulted in revenue acceleration for the business.
To align with her personal mission to have a positive impact on everyone she meets, Jeannie is a leader among community leaders. She serves as Chair of Girls Inc. Greater Houston and Founding Member of Impact100 Houston. She is the former Board Chair of The Foundation for the Women's Energy Network, former President of Women's Energy Network – Global, former President of the Women's Energy Network – Houston, and former President of Society of Women's Engineers Houston. With all that she has going, Jeannie still finds time to post on LinkedIn EVERYDAY…so much so that LinkedIn has officially recognized her for the quality and quantity of her posts! #LifeGoals!
Listen as Jackie and Jeannie discuss the business challenge of being nimble and keeping up with market transformations that impact your industries. Jeannie calls out the importance of staying current with business, digital, and political trends to garner a full appreciation of how to grow with your business. She also reminds us that when you are selling, you are not selling to just one person or department; you have the opportunity to do business with multiple stakeholders in an organization to drive more revenue. Jeannie is a master at follow through, and her growing edge encompasses something we can all relate to.
QUOTE OF THE DAY
"We're at the start of another productivity revolution— generative AI. It's producing things we didn't have before."  Dr. Abel Sanchez Executive Director of MIT's Geospatial Data Center, Research Scientist; Center for Complex Engineering Systems, Sociotechnical Systems Research Center
FAVORITE BOOKS
"It's Time to Sell: Cultivating the Sales Mind-set" by Chris Spurvey